We'd like to offer up a great big shout-out to Felicia Berggren. She is a driver and trainer for Werner Enterprises and a graduate of Truck Driver Institute in Sellersburg, Indiana.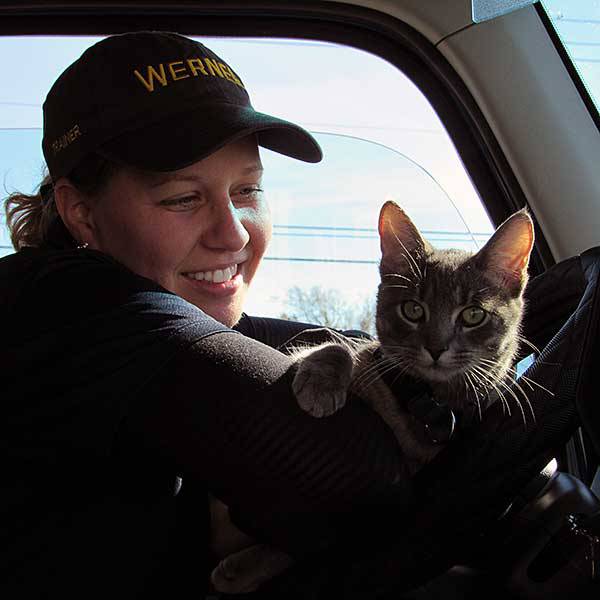 We're not the only ones who think Felicia is a positive image of what truck driving is all about. She was just named Women in Trucking's February Member of the Month. In the span of just three years, she went from having to work three jobs to enrolling in truck driving school to finding an opportunity of a lifetime with Werner as the first female driver in its Operation Freedom fleet. She has a special connection and appreciation for those in the military — her father served in the Army and her brother served in the Navy.

Felicia has returned to Truck Driver Institute several times recently as a goodwill ambassador for Werner's driver recruiting efforts, driving one of their Operation Freedom rigs for our students to see. She was making the rounds last Fall in Operation Freedom IV, and she is now assigned full-time to their Operation Freedom V truck.
Operation Freedom — part show truck, part work truck
Don't make the mistake of thinking this is just some cushy job driving a show truck. The Operation Freedom trucks are working trucks, hauling freight for Werner's customers the majority of the time. The trucks are also used throughout the year at special events to promote awareness to their military veteran recruiting program, Operation Freedom.
Out of all the trucks and drivers in Werner's over the road fleet there are only 5 of these Operation Freedom rigs, so this assignment is considered quite an honor among Werner drivers.
Also see: Does this truck make you look twice, or what? Werner Operation Freedom
We're proud to say Felicia chose to train for her CDL with us at Truck Driver Institute, and we're proud of our long-running association with Werner Enterprises. Werner recruits new drivers from our graduates every week.
Also see: Driven to Succeed with Werner Enterprises
We know a big part of our job is to make sure you have the training and confidence to become a commercial truck driver. And, a very big part of our job is to help you find a carrier where you can put those new skills to work. At Truck Driver Institute, we have the resources and experience to do just that — we have been putting America to work since 1973.  Contact us today.
---
Find Out How to Get Class A CDL

---